Perfect rooflines for Leicester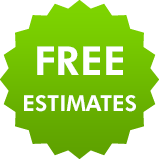 The integrity of your roofline is of great importance. The junction between roof and house needs to be in good condition to keep moisture out of the building. Fascias and soffits perform this vital role, so make sure yours aren't damaged or degraded.
As oneof the premier roofers in Leicester, we're used to dealing with replacement and installation of top quality fascias, soffits and barge boards, so when you decide to engage our roofing services, you can be sure that you're in safe hands.
Attractive, modern rooflines for all
There are plenty of great reasons to select new uPVC fascias and soffits for your house. The many positives of this material include:
Durable – no chance of rot like wood
Maintenance free – easy to look after
Colours – Can be styled to match your home
No repainting – no hassle
Tough and hardwearing – no cracking and peeling
Cost-effective – great value
Get a free quotation on us
We are committed to providing the best roofing service in the whole of Leicester, and as a company we strive to meet that goal. Our service begins with a free quotation for you roofline work, whether it's minor repairs or a full roofline overhaul.
All work starts with a free consultation. To arrange a visit, call 0116 316 9246.