Flat roofing by specialists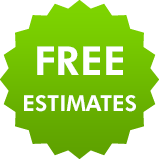 Has that pooling water on your flat roof now turned into an incessant drip from the ceiling? If your home is no longer watertight, then it's time to call for repairs from a top class roofing company, who can get things back in order. We're absolutely sure that you'll be delighted with the work we do.
Regardless of the size or shape of your home in Leicester, our expertise means we can tackle all sorts of flat roofing jobs, from minor repairs to full installations and renovations.
Comprehensive flat roof services
We have a range of skills that apply to all kinds of flat roofs. Get in touch about:
Long lasting, quality felt roofing
Completely new flat roofs
Replacing ripped or leaky flat roofs
Repairs on all types of flat roofs
Reliable Leicester roofers
We have a long history of dealing with flat roofs here in Leicester, so we have the necessary experience and background that you'd expect from professionals. We are fully trained, and know flat roofs inside out, so it pays to give us a call and let us know what we can do for you. Whether it's a new flat roof or a simple repair job, we'd be delighted to give you a free quotation. Call today and speak to a qualified roofer. We're available on 0116 316 9246.