Leicester roofers – we have the know-how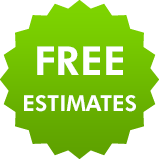 We are the roofing specialists for Leicester. We'd love to talk you through our roofing services, so why not get in touch today? Let us know what you need, and we can cover it. From simple roof and guttering repairs to complete replacements and new constructions, we are the roofers with the skills to get the job done.
Roofing is our speciality
We serve the whole of Leicester with our professional service, and we're sure we can handle the task, whatever it is. Call us when you want roofers that are experienced in:
Roofing repairs in a wide range of materials
Roofline maintenance to ensure your roof stays weatherproof
Repairs and maintenance of your chimney
Flat roofing construction, repairs and maintenance
Construction of roofs in a range of materials
Roof lights by Velux, a market leader in roof windows
Roofers that put you first
Our business is highly customer focused. That's why we're happy to come and help you wherever you are in Leicester. We'll come over, look at what needs doing, and give you a free quotation.
You'll find our prices are keen and our workmanship is top-notch. So for great services from a professional roofer, simply give us a call on 0116 316 9246.